J. Ann Women's 6-pair St. Patricks Crew Socks, Sock Size 9-11
In Stock
• Elastic closure
• Ladies St. Patrick's
• Crew/Ankle socks, 6 Pairs per pack
• Material:80% Acrylic, 20% Spandex
• Colors: Assorted Colors per Pack- Refer to picture
• rise from ankle to mid-calf
• Sock Size: 9-11 
Hurry up! Only
10
item(s) left in Stock!
A sock is an item of clothing worn on the feet and often covering the ankle or some part of the calf. Crew socks are short. This keeps your feet very dry. It is very comfortable to wear in all season.

J. Ann Women's 6-pair St. Patricks Crew Socks are usually unisex. Low cut sock is a kind of sock that describe in a way to be cut below ankle. One of the roles of socks is absorbing perspiration.

Our Product Crew socks are short, thick everyday socks usually ribbed at the top of the ankles. They can be used in a way to warm legs. It is soft and smooth to wear and also fluffy at the top of the socks. Our Collections translate inspirations from past into tangible designs that are relatable today. Adding a nostalgic, vintage element it's a pair of socks stands apart, both in your sock drawer and on your feet. You will never try to hide your socks again. These socks are sure to wake up your footwear.

Our product Crew socks are great for Lounging around your home. Feel comfort and safety. On-skid bottoms to prevent slipping and sliding. Polyester is an ideal fiber to use for this since it will retain its shape, unlike its cotton and wool counterparts that tend to flatten out over time, significantly reducing their ability to trap warm air. Since these garments are frequently worn and washed, its stain-resistance and durability are also desirable

Material : Our Product is made by 80% Acrylic, 20% Spandex .

Color : Our product is available in different colors and patterns.

Size: The available size of Our Products are Large(9-11).
You might also like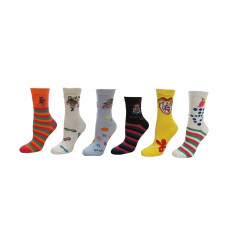 Ladies Mardi Gras Crew socks, 6 Pairs per pack Material:80%...
Price
$10.99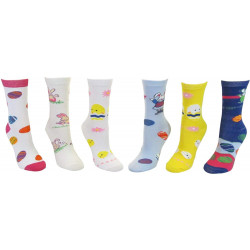 Youth Women's Easter-Day Crew socks, 6 Pairs per pack...
Price
$5.99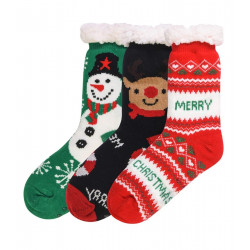 • Family 3-pack Cozy and Super Warm Thermal Knitted Crew Socks...
Price
$15.00
No customer reviews for the moment.