Brave Adults 3 or 6 PK Sporty Cotton Low Cut Socks
In Stock
Imported

Adults 3,6 Pairs/Pack Low Cut NON-SHOW Ankle CUSHIONED Socks

Material: 88% Cotton, 7% Nylon, 3% Elastic, 2% Spandex

Bottom Terry Cushion For Extra Support And Softness

One Size: Fits Shoe Size 6.5-12

Striped Colors * Random selection of colors will be chosen. *Some colors may overlap.
Hurry up! Only
15
item(s) left in Stock!
BRAVE ADULTS SOCK is an item of clothing worn on the feet and often covering the ankle or some part of the calf. Some type of shoe or boot is typically worn over socks. A Brave Adults Sporty Cotton Low Cut Socks is a type of Socks. This sort of sock is not long, typically reaching just above the ankle.Low cut sock is a kind of sock that describe in a way to be cut below ankle. Low cut socks are formed to cover the contours of feet. Low cut socks are unisex wearing but women and girls commonly use them. Low cut socks are normally worn with shoes such as boat shoes, Oxfords, moccasins and loafers.

BRAVE ADULTS SOCK Bottom Terry Cushion for Extra Support and Softness. It is imported. Brave Adults Socks will prevent blisters, wicks the sweat away and a must-have in everyone's wardrobe. They have padded heel-and-toe constructions with comfortable and absorbent cushioned soles. Keeping the feet warm but dry while playing.

OCCASION :Wear these for the workout, yoga, running, sports activities.

MATERIAL: A Brave Adults Socks can be created from materials such as, 88% Cotton, 7% Nylon, 3% Elastic, 2% Spandex.

COLOR: Choose Your Color COMBO Combo1 , Combo 10 , Combo 11-6pr , Combo 2 , Combo 3 , Combo 4 , Combo 5 , Combo 6 , Combo 7 , Combo 8 , Combo 9 (Color may slightly varies due to photographic lightings).

SIZE: Size Available, 6.5-12.

PACKAGE: Adults 3 Pair/Pack Low Cut Ankle CUSHIONED Socks.
Specific References
upc

089365604504
You might also like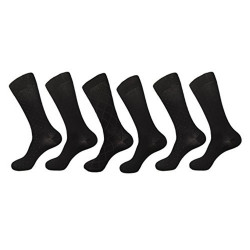 Mens Dress Socks Finest Mercerized cotton combined with nylon...
Price
$7.00
 Men's  Jacquard Knitted Slipper Socks Material:98%Polyester,...
Price
$4.89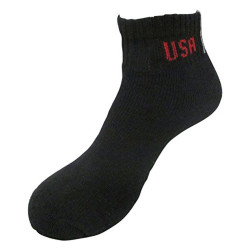 Material:80% Cotton, 20 % Polyester, Color: Choose your...
Price
$8.99
36 other products in the same category:
No customer reviews for the moment.