J.Ann Women's 1-Pack Knitted Non Slipper Socks with NON-SLIP BOTTOMS.
In Stock
J.Ann Ladies 1-Pack Jacquard Knitted Non Slipper Socks, Many Designs

Material: 98%Polyester, 2%Spandex *Knit lining for extra warm and comfy!!

Flat Bottom Size: 23cm-24cm (To fit women's shoe size 5-7). Secure elasticated top & Pre-shrunk for better Fit

Non-Slip on the Bottom (This way you won't slip on the hardwood or tile floors).

For colors available, refer to pictures. Color may vary due to lighting
Hurry up! Only
5
item(s) left in Stock!
J.ANN WOMEN'S 1-PACK KNITTED NON SLIPPER SOCKSS WITH NON-SLIP BOTTOMS Crew length, extend the warmth from ankle to toe. Comfortable elasticized opening, will not hurt your skin.Our Products are thick and soft bottom blocks off the hardwood and cold tile floor.

PERFECT FOR BARRE, YOGA & PILATES: Silicon grip dots cover the entire foot for a safe and secure step during any workout.Elastic spandex material comfortably stretches over your foot for a snug and secure fit that won't twist or slide with use. Our Products are soft, comfortable and durable pair of socks features dozens of silicone grip dots for increased stability and traction. Wear them as slipper socks around the home, on trips to the gym or even as a replacement for those inferior hospital socks.

J. Ann Women's Knitted Non Slipper Socks are a great for improving balance during Barre, Yoga, Pilates or any other workout activity. Our Products are made from a carefully chosen polyester blend that is soft, breathable and extremely durable. No more holes, tears, stretching, shrinking or shedding.

Polyester is easy to machine wash and dry clean. It has excellent memory characteristics to retain its shape and it is more durable. It ranges from very soft to very firm.

MATERIAL : 98%Polyester, 3%Spandex Thicken Wool, knit lining for extra warm and comfy.

SIZE: Flat Bottom Size: 23-24 CM, May fit women's shoe size 5-8. Secure elasticated tops & Pre-shrunk For Better Fit.

COLOR : Beige W. Red, Green W. Pink, Hearts 2pk_aqua/Brown, Ivory W. Pink, Light Pink W. Pink, Red W. White, Snowflake 2pk_burgundy/Pink, Snowflake 2pk_green/Red, Snowflake 2pk_green/Red

PACK: 1PACK.
You might also like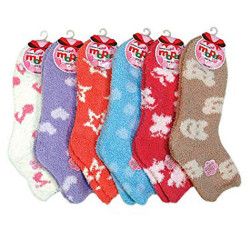 Imported 98% polyester, 2% spandex Machine wash cold, do not...
Price
$7.75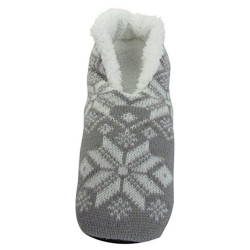 Adults Cozy Slipper Socks, Non Slip Skids (This way you won't...
Price
$11.99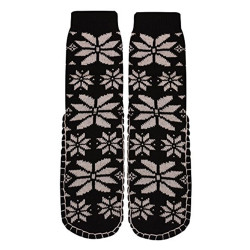 Material: 98% Acrylic, 2 % Spandex Hand wash cold | Do not...
Price
$4.00
36 other products in the same category:
No customer reviews for the moment.