Star Wars Men's Crew Neck S/S/ Graphic T-Shirt
Out-of-Stock
Star Wars Men's Crew Neck S/S T-Shirt

Material: 50% Polyester, 37% Cotton, 13% Rayon

Select Your Size/Color

Short Sleeve.. * Crew Neck

Print in front of Shirt
Star Wars Men's Crew Neck S/S/ Graphic T-Shirt is normally associated with short sleeves, a round neckline, known as a crew neck, with no collar. T-shirts are generally made of a light, inexpensive fabric, and are easy to clean. As opposed to the round neckline of the more common crew neck shirt.

Our product is a type of shirt or sweater that has a round neckline and no collar, often worn with other layers. Polyester is an ideal fiber to use for this since it will retain its shape, unlike its cotton and wool counterparts that tend to flatten out over time, significantly reducing their ability to trap warm air. It is great for lounging around home. Rayon is very soft, cool comfortable and very good absorbent property. Cotton is easier to wash and care for than other fabrics, so let your washing machines do your dirty work and enjoy the money you'll save on dry cleaning.

Cotton naturally allows your skin to breathe and doesn't trap heat. Since cotton is breathable and doesn't retain odors like oil-based fabrics, you can save your clothes a few trips to the hamper between wears. Cotton is soft, absorbent and breathable. So, if your clothes are itchy, irritating, stiff or clingy, look on your label because your clothing may not be cotton-rich.our logo is printed in front of our T-Shirt.

Material : Our product Star Wars Men's Crew Neck T-Shirt is made up of 50% Ployester,37%Cotton,13%Rayon.

Color :The available colors of our products are Fighter red, Star Wars-Grey, Darth blue.

Size: The available size of our products are X-Large, XX-Large.
Specific References
upc

704386802134
You might also like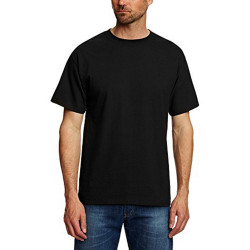 Material : 100% Cotton ; Color Available-Black Short Sleeve...
Price
$10.01
3 other products in the same category:
No customer reviews for the moment.