Disposable 3 Layered Ear Loop Safety Face Masks Breathable, Comfortable for Protection, From , Dust, Allergens 50pc
In Stock
COMFORTABLE – Super strong and comfortable elastic ear loops for maximum level of comfort and quality of use.

FLEXIBLE – The light blue 3-layered mask expands to fit your face perfectly.

EASY TO USE – Place straps around your ears and shape the metal strip for a custom fit.

SAFE: Stay protected and safe, use a new one every day and throw away old masks to maximize protection.

QUANTITY: Box of 50 face masks in bulk for all ages. Suitable for work, school, home, and public spaces.
Hurry up! Only
98
item(s) left in Stock!
You might also like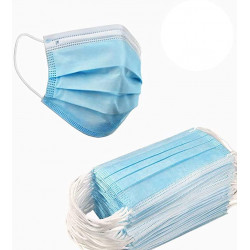 Model : 3 Layers and Flat Shape Product Specification :...
Price
$3.99
EAR STRAP– Mask with ear straps for an easy & quick slip...
Price
$19.99
4 other products in the same category:
No customer reviews for the moment.